Thank you for finding us here, friends! The WayfinderShoppe.com is under construction and will be ready to serve you very soon!
A note from Crisann about how this all started –
In November 2020, life decided to get creative and threw me a real curveball – Stage IV Her2+ Invasive Ductal Carcinoma, or as I like to call it, the aggressive kind of breast cancer. It's like my 50th birthday gift, except the kind nobody wants – cancer, with a side of spine-invading shenanigans that left my vertebrae and ribs shattered. So, I embarked on the wild rollercoaster of chemo, and radiation, because leaving this planet was NOT on my to-do list. I still get a cancer-fighting infusion every three weeks. And since my family's nowhere near, my incredible friends rallied around me, armed with love, support, and more help than I ever knew was possible.
But here's a twist – cancer didn't just crash my party; it brought gifts! It gave me a swift reality check, shuffled my priorities like a deck of cards, and opened the doors to some deep healing. I know it sounds bizarre, but despite the cancer and my spine's questionable integrity, I can honestly say that I'm the happiest I've ever been. The moral of the story? You don't need a life-altering diagnosis to start your journey towards becoming the finest version of yourself. Trust me, time's shorter than you think, my friends!
And here's where it gets fun. In the middle of my health rollercoaster, I stumbled upon the "Vegvisir" – an Icelandic rune stave, the ultimate GPS for life's storms. Vegvisir means Wayfinder," and it promises that whoever carries it will find their way, even in the wildest tempests, and without a map. I loved the idea so much that I got it inked on my inner arm, a daily reminder that no matter the trials I face, I've got an in-built navigation system.
During my recovery, my doctors dropped the most unexpected prescription ever – "make art." So, I embarked on a creative journey, exploring painting, wreath-making, graphic design, outlandish Halloween decorations, and candle-making. Candle-making became an instant obsession, and I dove headfirst into mastering the craft. Hours of research and experimentation later, The Wayfinder Shoppe was born! It's a haven for all things enchanting, mystical, and a little bit cheeky, including oracle decks that I have created, hand-crafted candles, and art.
Under the umbrella of the Shoppe is: The Wayfinder Apothecary – where we craft sustainable, small-batch luxury candles using only the finest ingredients. Our candles go beyond mere illumination: they invite you to embark on a journey of transformation, enlightenment, and inspiration.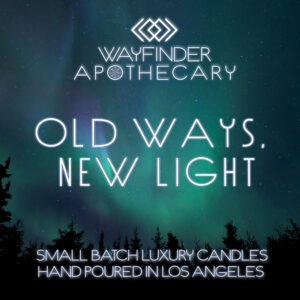 Our candles are more than a source of light; they are a gateway to a deeper connection with your body, mind, and spirit. The wax symbolizes the physical, grounding you in the present moment, like the comforting embrace of the Earth itself. As the wick ignites, it sparks your mental fire, awakening your spirit and guiding your thoughts toward clarity and creativity. The flame dances to life, a mesmerizing connection to endless possibilities.
Inspired by our Norse Heritage: our symbol combines the Elder Futhark runes Kenaz and Ingwaz into a bindrune, harmonizing the qualities and attributes of both.
Together, Kenaz and Ingwaz create a unique and potent symbol that signifies the fusion of personal growth, inner illumination, and the awakening of creative potential. It suggests that by delving into your inner self and igniting the spark of knowledge and inspiration within, you can bring about a fertile period of transformation and positive change. A reminder that your inner light has the power to guide you toward new beginnings and personal evolution.
At their most basic interpretations, you *could* say that they mean "Home Torch" – which is possibly the most perfect symbol for a candle company, in our humble opinion.
Good to Know: your transformative experience doesn't come with ingredients that will make you cough or give you a headache. Wayfinder Apothecary candles are made without parabens, phthalates, sulfates, or pesticides and come from renewable sources. They are also skin-safe: clinically tested and dermatologist-reviewed.
Join us as we kindle the magic of old ways to bring new light into your life." 🔥💫