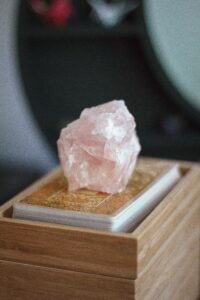 When I give a reading, I use a combination of my favorite tools: tarot, remote viewing, mediumship, clairvoyance, and predictive tools to help you see the potential surrounding your work, finances, business, relationships, family, health, empowerment, and spirituality.
My team of guides helps me see you clearly during a session. I see your greatest strengths and potential in addition to your challenges, blocks, and self-limiting patterns. My goal during our time together is to bring you the comfort and clarity you seek and to give you a roadmap to make a course change if that's what you desire.
During a reading session, we can zoom out and look at dynamics or go granular and drill down to timing, yes and no's, or even find your lost passport. I work quickly and accurately.
A reading session may include:
A general overview of what you need to know right now – a birdseye view of all the potentials coming in and what they mean.
(Work, Romantic, Health, Finance, Empowerment and Spirituality are all covered in a general reading).
Specific yes/no answers.
Timing questions answered.
Career, business, and financial questions answered.
Family, relationship, or love life questions answered.
Clarity about challenges.
Remote viewing for events like job interviews, important meetings, and first dates.
Each reading I do is rooted in the desire for your highest good. I'm just a channel to identify and clarify the energies surrounding you, so you can maximize the highest good and manage or minimize challenges.
If you're curious about what it's like to get a reading, pop over to my reviews page and check out what people are saying. If you have any questions, feel free to send me a message. I'm here to help.
To book a session, please use the contact form below: